Springville Art Gallery
The Springville Museum of Art is celebrating their 50th Annual Utah All-State High School Art Show. This show will have over 1,000 submissions from throughout the state of Utah. Out of over 100 participating schools, about only 30% of the submissions are accepted. West High had 12 submissions accepted, which was the most out of any school. I interviewed Sadie Gray and Asher Larsen, two of the artists whose art was both accepted and won awards at the gallery.
Sadie Gray, a senior, won the Junior's Best of the Show Award in the Springville Art Gallery. Her piece, titled "Attachments," is a piece portraying the isolation that comes from COVID-19, causing codependency and intensified attachments with people or pets during quarantine. This piece is composed of watercolor and colored pencils. Asking her opinion on the importance of fine arts education, Sadie says that fine arts education allows students to think in different ways from other areas of education. "Fine arts prizes observation and creativity that isn't always exercised in a math or history class. I think it also teaches students to be more self-reliant since there is not a 'right' or 'wrong' way to do art, and they have to trust their own intuition or ideas," she says. She also expressed her gratitude for the award, saying that she is proud to be able to represent West High.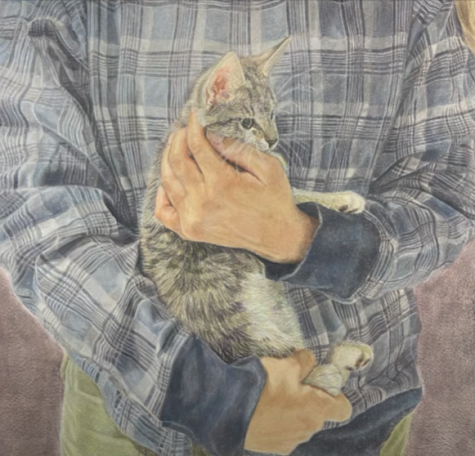 Senior Asher Larsen won the Second Congressional District Award in the Springville Art Gallery. His piece, titled "Self Reflection," is a self-reflection on the invisibility of the homeless and the isolation that comes with it. He puts himself in that situation expressing his thoughts having seen it in person. This piece is a composite photograph made with several photos he took. I asked Asher's opinion on why he thinks fine arts education is important. He explains that he believes fine arts education is just as important as any other aspect of education. Though the idea of putting a grade on art is off putting, it can be a good hobby. "I know a lot of people that would really benefit from being introduced to something like an art class, just so they have something to do with their time to have fun with and let themselves enjoy. It also acts as a way to express yourself and put all that anxiety, stress, relief, anything you want into something physical." He is very grateful for this opportunity to participate in the gallery. He is thankful for his teacher, Christine Fedor who submitted his photo. Although the photo submitted was not his first choice, he shares an important point about the creation of art that I believe to be very important to any artist. He says, "I think it's a good learning experience to not underestimate yourself as an artist and be proud of whatever work you put out, even if it isn't your favorite."