Have Masks Been Effective in Reducing COVID Cases in Utah Schools?
On December 14, 2021, the Salt Lake City Council and Mayor Erin Mendenhall extended the K-12 mask mandate for all Salt Lake City schools until March 28, 2022. Additionally, other districts in the Salt Lake Valley were required to comply with the mask mandate passed by Salt Lake County on January 7. However, on the 21st of January, the State Legislature voted to overturn and ban all mask mandates put in place by county and city officials. This move returned districts in Salt Lake County to their previous regulations "strongly encouraging" the use of masks for all students and faculty. Looking back on the school year so far, it's clear that Utah's school districts have many different views toward masking policies. But, what types of regulations are most effective?
To answer this question, I looked at school associated case data for Utah high schools. Coronavirus.utah.gov, states that "school-associated cases are defined as confirmed cases who have attended, worked in, or visited a K-12 school in-person for more than 15 minutes while symptomatic or in the 14 days before their symptom onset. This definition captures cases who were at a school during their exposure period and were potentially exposed at the school. It does not necessarily mean the individual contracted COVID-19 from being exposed to the virus while at school." This is used to ensure that numbers only result from mask usage at school, rather than cases transferred between individuals outside of school. The numbers recorded in this article are from high schools with at least 1200 students enrolled in the current school year, and are gathered based on figures from coronavirus.utah.gov. It is important to note that these cases are reported by the schools themselves, so there may be delays in getting information to the Utah Department of Health. Additionally, some schools may not have had an established case reporting system, so some data may be inaccurate. Data and figures may change between the time this article is written and the date it is released. Population density and vaccination rates are a few other confounding factors.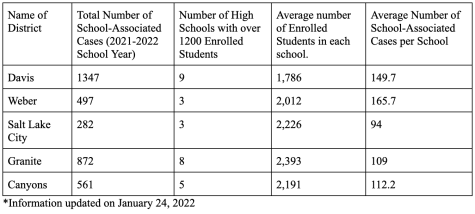 To compare, SLCSD and Granite School District had the lowest number of average cases per school and Davis District had the highest average case count per school. Although the State of Utah voted to overturn county-wide mask mandates, Davis and Weber Counties did not issue a mask mandate like Salt Lake and Summit Counties did. By encouraging masks to the fullest extent possible, districts in Utah have seen lower school-attributed Covid-19 cases in high schools, regardless of higher enrollment numbers.
Over the past 2 weeks, there have been 3,879 K-12 school-associated cases across the state of Utah. Over the entire school year, Utah has reported 33,111 school-associated cases. When school districts released their COVID-19 guidelines back in August, many districts, such as Salt Lake City School District (SLCSD) and Granite School District, strongly encouraged mask use. Other districts, like Davis School District, left the decision up to students and their families but were adamant about implementing a test-to-stay policy if cases continued to rise (KSL, August 4, 2021). 
According to the New York Times, since the beginning of the year, the number of people under the age of 18 who have been admitted to the hospital due to of COVID-19 has increased from a daily rate of 1 person per 100,000 to 1.5 people per 100,000. Utah currently ranks 25th highest in the nation for 7-day average case counts, and 34th in the nation in 7-day average deaths attributed to Covid-19.
So does encouragement for the usage of masks work in Utah schools? In short, yes. School-associated Coronavirus case numbers in Utah Districts which encouraged mask use at the beginning of the school year in students and faculty are significantly lower than those in districts which did not have as strict of regulations at the beginning of the school year.