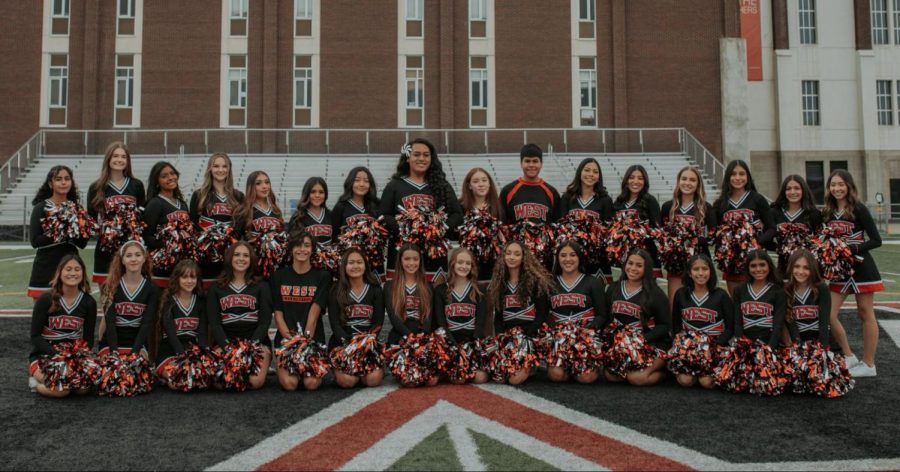 It's 6:45 a.m. The tech wing gym lights are turned on and the mats are rolled out, and West High's cheerleading team is ready to begin practice. So far this year, you've seen them on the sidelines at football games cheering and keeping the school spirit up. But what you see on the field is the final product. Beka Johnson, a junior on the team, had this to say about the work that goes into their performances: "It's a lot of early mornings [..] and late nights, especially during football season." During the morning practices, West's cheerleaders are working hard to perfect every movement while enjoying one another's company. "It's like a second family," Kenna Walk, another junior on the team, adds. Watching them practice, you can see the team rallying around one another, creating a community. Even the cheerleaders who have not been on the cheer team for very long can feel this sense of friendship. Freshman Natalia Godoy and sophomore Tegan Wolfe commented on how much fun they have had this year already.
        Sports events are not the only place where you can see them perform. West High also has its very own competitive cheer team. These cheerleaders compete against other teams in the state on behalf of West. "We've been working on a lot of stunting," Kenna adds. For reference, stunting refers to stunts like the basket toss, where there are bases and a flyer and the flyer is thrown in the air and caught by the bases. Competition season doesn't start until January 15, but the competition team is already practicing and perfecting their routine. Attending their practice, I watched as the competition team tossed their flyers into the air and caught them as they came back down.  The flyers expressed just how nerve racking it can be to be thrown in the air.
        This year's cheer team would love for all to come and support them at any event where they might be.