West High's Family Resource Center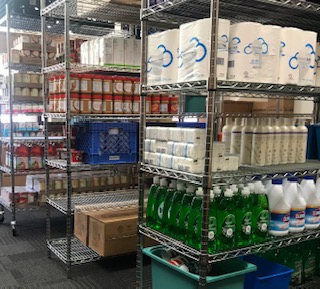 I was able to interview West High's own Sara Palomino, who is in charge of the Family Resource Center. She has been working as the director of the Family Resource Center since 2020 and is going on her second year. She hopes to achieve her goal of " supporting students and families by coordinating resources & services aimed at helping them thrive in and out of school".  
"When and where can people find the FRC and what resources does it have?": "The FRC is located inside of West High School right next to the library. I'm here M-F from 8-4PM. Families seeking assistance can contact me to set up an appointment. Students are welcome on a walk-in basis. We can help with: food items, school supplies, hygiene products, DI clothing vouchers, UT cards, gift cards, eye exams, eyeglasses, dental care, mental health, laundry room [East High School] and connect families to other resources and services in the community". Here is where and when you can access the family resource center and a list of the many amenities that they offer. 
"What are some things you feel could help make the FRC better?": "We have done a great job at making resources accessible to students and families. I think the next level is focusing on making services also accessible to them. That could mean supporting families as they seek housing assistance, day-care options, health care services, employment opportunities, etc. I'm eager to support them as they work towards long term progress". 
"What are some moments that make the work worthwhile?": "When community members utilize the available resources during a time of need. For example, we had a lot of families seeking food assistance during the extreme wind storm last year as many households in the area went without electricity for hours or days. During that time we distributed most of the food we had on our shelves. When you see families and students overcome challenging situations and transition out of survival mode. I've had students come back to tell me how things are turning around for them and how excited they are to graduate high school, start college and/or start a new job, etc. When students, teachers, parents or businesses approach me to ask how they can help. Some of them have supported the FRC by volunteering, making monetary donations or organizing drives to collect in-kind goods like school supplies, coats, hygiene products and holiday gifts for students."
"Do you feel that the FRC is a success?" : "I guess that would depend on how we define success. What I can say is that the program has been growing organically since it started five years ago. It has been growing with regards to the number of students we serve. Just to give you an idea, we provided food assistance to an average of 175 families and 450 minors every month last year. We have been also increasing the number of community partners we collaborate with; some organizations we work closely with are: Lee's Market, Deseret Industries, Friends for Sight, Alliance Community Services, Holy Cross Ministries & Rose Park Neighborhood Center". 
"Do you have plans for the future of the FRC?" : "One of my plans for the future is to work to create more leadership opportunities for our high school student volunteers. I had an awesome team of student volunteers that helped me tremendously during the pandemic. Shout out to them! You know who you are. I would love to help coordinate and support student led service projects this year. We have the need, the talent and the resources to get things going. We just need to make it happen". 
"How can students help contribute to the FRC?" : "Students can continue supporting the FRC through their volunteering efforts. They can also contribute by organizing drives to collect donations for our center like coats, school supplies and hygiene products, for example. Please contact me if you would like to collaborate and serve the West High School community". 
Sara Palomino has worked hard to make the Family Resource Center what it is today. Places like these are a huge part of building a community. West is very lucky to have an easily accessible resource like this. If you are interested in checking out the Family Resource Center, it is located on the second floor right next to the library. Sara is there to help you with anything you may need, and if you are interested in helping out or need volunteer hours, you can volunteer your time at the Family Resource Center. Being a part of this community means helping grow this community.