West High Debate Team Triumphs at Regional Tournament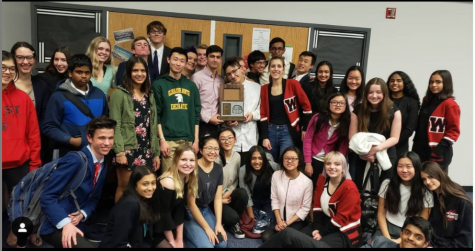 The West High Debate Program has always possessed great talent, but they haven't always had the resources to make themselves stand out. A lack of funding for the program led to less opportunities for debaters to attend out-of-state tournaments. The team's serious talent that wasn't being represented on the national scale, and was instead held back by tournament fees and flight costs. But when the COVID-19 pandemic began around one year ago and took in-person tournaments out of the picture, a window of opportunity was opened for the program. Out-of-state tournaments that would have been a challenge to attend could now be accessed through Zoom, no travel fees or plane rides required. I wanted to see how some members of the West Debate Team felt about the pandemic, the debate program, and how it has developed over the past few years.
The first big question on my mind was how these debaters felt about the COVID-19 virus and how it had altered debate for them. Policy Captain Hanna Rice had a take that most other responders agreed with: "The online format allows us to attend more tournaments than we would normally be able to because there are no barriers in terms of cost or travel restrictions… This new format has also made it easier to watch online debates which is extremely helpful in terms of learning new arguments or skills."
While the move to online tournaments has been beneficial in some ways, debaters miss some aspects of attending the events in person. Speech Captain Adelaide Parker said, "Pretty much the entire social aspect of tournaments is gone, so they're a lot less fun to compete at." AndTeam Captain Ethan Wall said that "COVID makes debate really strange because the persuasion in speaking isn't present since we're talking to a computer screen." That's a great point by Wall, as emotion is better perceived in person than over Zoom, which could lead to complications with getting your point across.
My other main question was, "How has the speech/debate program strengthened or become more successful over the past few years?" Fierce and nationally recognized debater Madeline Galian had an excellent response, saying that she thinks "the West Debate Team has become stronger through the willingness of varsity members to coach and guide the younger students. Ishan Sharma is the ELP head coach, and does a great job of introducing younger students to debate. Dr. Raymond and Mr. Daniels also do a great job of organizing tournaments." This quote really captures how well everyone plays their role, and how the seniors have done a great job of stepping into that leadership position and teaching the newer members the ins and outs of debate.
The debate program continues to grow and make itself known, and I want to congratulate them on sweeping the Regional Tournament this previous Saturday. They have created a strong sense of community. That bond, along with the willingness of the more experienced debaters to share their knowledge, will take the program far. The great communication and organizational skills of Dr. Susan Raymond tie the whole package together. Everyone should keep their eyes out for this West program – they are turning into a real force to be reckoned with.