West High Teacher Wins Award for Increasing Diversity Within STEM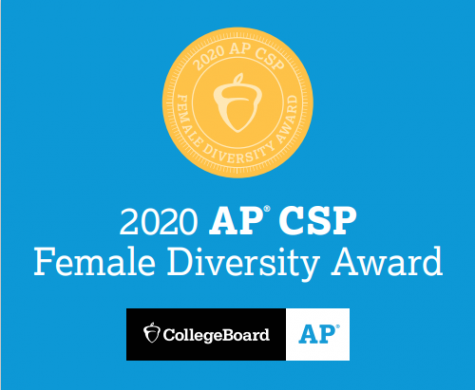 West High is well-known for its academics, with its high-performing IB and AP students. Schools that have an academic focal point are destined to have great teachers, and one of West's best is Nicole Reitz-Larsen, who has been recognized for her great teaching on multiple occasions. She has been teaching in the Salt Lake City School District since 2016 and was recently awarded the 2020 AP Computer Science Female Diversity Award by the Collegeboard, which recognizes teachers who are closing the gender gap and expanding young women's access to computer science coursework. I had the opportunity to ask Ms. Reitz-Larsen some questions about the award and other parts of her profession as a teacher. Let's dive into the questions and Nicole Reitz-Larsen's answers.
What did winning this award mean to you?
Being recognized for engaging more female students in computer science and expanding access into computer science classes is awesome. I have been trying to make computer science more welcoming to females, ever since I first started teaching computer science back in 2012. I noticed that many of the classes I taught were mostly male and the students in my classes didn't represent the students in the hallways. I have tried to be intentional about the way I recruit for my classes so that all students would feel like the classroom was a place where they belonged, could learn, share their perspective and be successful. I have been lucky to have counselors who have listened to me share about the classes I teach and what we learn, so that they can then talk with students about what we do and how they might enjoy it.
After you won the award, what responses did you receive from you students, administrators and colleagues?
The response from administration and colleagues I have received has been supportive and very appreciated. Right away an email went out to the staff about the award, a letter was published, and it was even posted on the district home page.
Did winning this award change your feelings about your professional work and if it did, in what ways?
Winning the award has made me appreciate the students I work with who make teaching meaningful and grateful for the colleagues I have who support me and help me find ways to be a better teacher. I have been lucky enough to have opportunities to have had students who have been in my classes and then want to join me in advocacy work on the state and national level to broaden participation and access to computer science classes and share their experiences and stories. At West, we are fortunate to have two computer science teachers here and have multiple opportunities for students to take 5+ classes, where other schools may have one teacher who only teaches one class of computer science because their main position is teaching math, science or business.
How has your role as a teacher evolved and changed during the years you've been in the classroom?
My role as a teacher has evolved over the years, as I started teaching at West back in 2000 as a Business and German teacher, and then asked to teach Computer Science when the previous teacher retired. As I transitioned into teaching Computer Science, I wanted to make sure that I was able to still use fun and engaging activities to help students understand hard content or topics and use group work to allow students to be collaborative and creative. Often people don't see computer science as collaborative, in the computer science field or see themselves little own in a computer science class, so I've tried to make sure that we learn about different computer science careers and about people who do computer science in hopes students will see someone like themself and make that connection that there are soooooo many possibilities in every aspect of life connected to computer science since we live in such a digital age.
Who has been an important mentor for you?
Helen Hu, a professor at Westminster, has been an important mentor for me. She introduced me to the first computer science class I taught and has helped connect me with people who have been instrumental in teaching me, as well as, coaching me in this newer field of study.
If you had the power to change one policy that is impacting education right now, what would it be?
If I had the power to change policy that is impacting education, it would be to help all students have access to multiple computer science classes or opportunities to experience computer science concepts from Kindergarten up through high school. In the younger grades it would be cool to see students learning about angels in math giving robots instructions, doing science experiments with physical computing tools and then in high school making apps that would help them better their community and space around them. However, at this point, students may only get 1 chance to take a class in middle school and maybe 1 or 2 classes in high school, which isn't much exposure to all of the possible courses you can take in computer science, as it much more than programming or gaming.
What advice would you share with people who are interested in becoming teachers?
Advice I would share with people who are interested in becoming teachers is that if you enjoy teaching or sharing information and experiences with other about a topic that you are passionate about, teaching is an opportunity that opens that door. Every day teachers are taking some kind of subject they enjoy and making it applicable to students lives or helping students see how important that subject is for them now and in the future. It is always fun for me to see students' eye light up or smile and get excited when they learn a new concept or make a connection to what we are doing in class with something in their lives. You see that student engage more and find meaning to the work we are doing in class and it just feels good.
Nicole Reitz-Larsen has only been teaching at West for a little over four years now, and has already made an impact at the school. She has previously been a National Champion for CTE, a Fox13 and Cyprus Credit Union Teacher of the Month, and received the NCWIT 2018 Educator Award. This 2020 AP Computer Science Female Diversity Award will be a great addition to her other accolades. West High School appreciates your efforts to expand diversity in the STEM field, Ms. Reitz-Larsen.