An Interview with Salt Lake City School Board Candidate Mohamed Baayd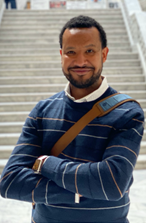 As November 3rd approaches, the Presidential Election between Joe Biden and Donald Trump is in the national spotlight. However, several less prominent, but equally important, state and local elections are also taking place on Election Day this year. Among the elections that are most relevant to students and teachers at West is the Salt Lake City School Board, where there are 6 candidates running in the 4 districts that are up for reelection this year. I interviewed one of the candidates for District 5, Mohamed Baayd, to chat about his priorities and relationship with the school board.
Mohamed Baayd is a husband, father, son, brother, veteran, small business owner, and immigrant. He has an associate's degree in English and Arabic Literature from Morocco. Mohamed is the first in his family generation and the village where he was born to earn bachelor's and master's degrees from American Universities; He has a Bachelor's degree in anthropology with a socio-culture emphasis from BYU and a Master's degree in Human Resource Management from Hawaii Pacific University.
Anika: Why are you running for the Salt Lake Board of Education? If elected, what will be your priorities?
Mohamed: I am a firm believer in the fact that education is the foundation upon which generations and civilizations rely to build their society. What better place to serve than on the school board? As a member of the school board, I will be able to work along with other school board members, the superintendent, families, our unions and other employees to implement policies that will benefit our students, teachers, administrators and families.
If I am elected, my priorities are to bring some solid long-term lasting changes to:
Education equity — This something that is affecting our marginalized communities, where students with amazing talents are affected because of equity issues.
Better Funding — Frankly, it is embarrassing that Utah is one of the top 3 worst states in funding schools. Fixing this issue will help us pave the path to better pay, safer schools, and educational equity across Salt Lake City school districts.
Anika: Why do you think school boards are necessary? What purpose do they serve?
Mohamed: School boards are: first, the bridge that connects parents, students, teachers, staff without whom schools would not exist with the superintendent, stakeholders and congressional members; second, school board members are the ones in the field with parents, students, teachers, staff and stakeholders learning about the challenges our education system is dealing with. Without them, that bridge of communication between decision makers and the rest who are dealing with everyday challenges of education and school operation, will not exist.
The purpose school board members serve is bringing those challenges to the forefront of the decision table and finding and working with the team to find solid solutions that will take care of the challenges faced at schools.
Anika: What kind of relationship do you want to have with students, teachers, and community members? How will you achieve this?
Mohamed: Establishing a relation of trust and friendship is the most important element to make this work. The trust and friendship will only strengthen the relationship between students, their teachers, staff and school board members. Teachers are the driving force that moves education vehicle forward. We need to empower them by fully trusting them with preparing our children to become future leaders that will continue to honor the true values America is built on. Friendship is very essential — it will open a path for honest conversations about how to make our schools better. Teachers are the ones who are on the school grounds and know the challenges taking place there. I want community members to be my friends and trust that I am going to do everything in my power to ensure that our children are receiving the best education possible, and know that our teachers and staff are not forgotten.
Anika: What do you think are the biggest issues facing the school board this year?
Mohamed: The pandemic, social injustice and the search for a new superintendent.
Pandemic — I am very happy with the actions our school district has taken to make sure the safety of everyone is the number one priority. I am also pleased with the purchases made to facilitate the transition to virtual learning. These are all good steps; however, for our marginalized communities, these are just temporary fixes and I am confident that our board members will work with stakeholders to find long term solutions that will make virtual learning smoother than what it is right now.
Social injustice — As a black man and an immigrant named Mohamed in America, it is emotionally taxing seeing all the hatred, racism and injustice taking place in a democratic country; therefore, I relate and feel the emotional distress our students of color feel every day. These are the stresses that affect their ability to focus and excel in their education, and as a school district, we have a lot of work to do here. We need more minority counselors, teachers, and staff in our schools. We should not have a heavy armed police officer on our school grounds, because our black, brown, immigrants and refugee students feel intimidated and unsafe, which in turn affects their confidence in their ability to succeed in schooling, and further their education post highschool.
Hiring the right superintendent — They must be a person that values integrity, diplomacy, commitment to teachers, students, school staff, in addition to their relationship with School Board members. These evaluations must not only be from my point of view, but also through direct and anonymous feedback from those that they work with, so that we hear the information that people may have concerns about sharing.
Anika: If you could fix one thing about the school board, what would it be?
Mohamed: The accessibility of school board members to everyone. Unfortunately, a lot of families and students do not know much about the school board and what they do for education. Holding town halls at schools and addressing the issues at hand and steps that have been taken to tackle the concerns of everyone at school. This will help students know who their school board members are and what their role is in the operation of schools.
Anika: What do you think would be the best part about serving on the school board?
Mohamed: The best part will be having the honor of being part of the team that helps shape the education that is provided to our children.
This country is built on amazing principles and values that has made it the land to which people from all walks of life want to come to, gain education and live the American dream. To ensure the true American dream survives and continues to prosper, it all starts with education. It is our responsibility to make sure our future generations have access to the best public education the state can provide.
Anika: What is your vision for education in Salt Lake City? How will you work to achieve it?
Mohamed: My vision for Salt Lake City Schools would be to operate as ONE school, not West vs East, district vs district, or constituents' desires vs constituents' desires; instead operate as a unifying body that will bring families, teachers, staff, stakeholders and congressional members together. This will help us work together and come up with the best changes that will provide concrete solutions to problems that our schools and education face in our city.
To achieve this vision, integrity and diplomacy is the bridge to working together with everyone, even with those I disagree with. It is not going to be an easy path, but with integrity and diplomacy, we will see promising results because in the end, everyone has good intentions in making sure our children have the best education possible.